Archive for the 'From Louis' Category
To all the Linea Ladies dads and husbands……A Happy Father's Day!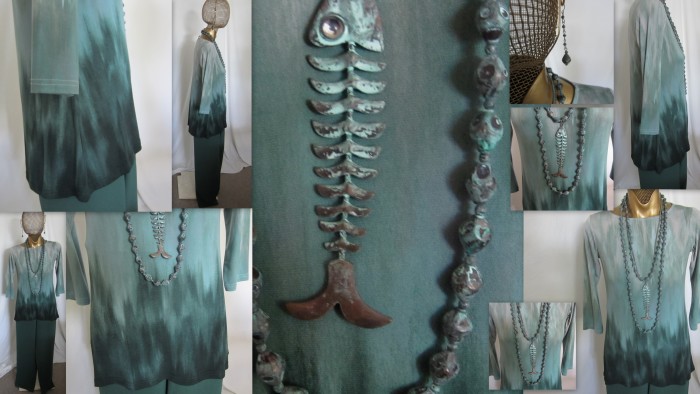 ……………………Just when you thought you were finished with summer and you had seen the last ombre color for the season……………SURPRISE……………….SURPRISE!!!!!!!…………………………..
This is one of my newest colors………..CELADON……the  tunic style number is A263353……..You can see how one thing influences the other. Did the GREEN PATINA jewelry come first or the print? I can tell you it was the jewelry that inspired the Celadon color for the ombre. There are approx. nine to ten different screens of colors, one overlaying the other, to create the ombre effect. There are subtle taupes, and a variety of greens, starting at the bottom with a deep evergreen color and ending at the top with the palest celadon……….To be completely honest, when I said SURPRISE!, I was surprised to see these new ombre colors scripted in this June show too. They were scheduled to be part of my July TRANSITION show on the 10th. I guess since they were already in and processed…..why hold them almost another month…….I hope you like the three new colors I am offering you plus we are bringing back into inventory the very popular ALABASTER!….If you are wondering what is that beautiful green pant…..it's new! It's in the wonderful CREPE GAUZE….It's a classic pull-on with an elastic top…..It has pockets…..It's unlined……..It will be avail in Reg. and Petite lengths…….The color is IVY, and it will be avail on my July show!………………………….enjoy………………..much Love…………………………..Louis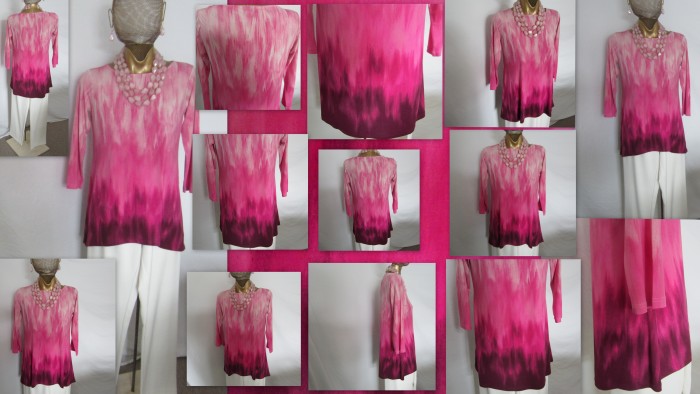 ……The OMBRE PRINT is back in more glorious colors. A263353 is the style number……………PARROT TULIPS…..come to mind when I look at this printed tunic……Each season, when my catalogs come in with all the fall planting bulbs, I marvel at the beauty of the Parrot Tulips. Their variegated markings and the beautiful colors are the perfect example of Mother Nature in all of her glory………The color is called STRAWBERRY, but like the Parrot Tulips, there are so many beautiful colors, that any one of them would make a beautiful solid top……These prints, because of how complicated and intricate they are, are done in a very special factory outside of China, where they print on their own quality of poly jersey….so if you have noticed a difference in the weight, hand and drape of these tops you are correct……The fabric is then shipped to our factory in China where they are cut and sewn…..This definitely adds to the cost, but the end result is so worth it!…..I know many of you have this top in many colors already, and I know it's hard to resist these new colors. For me they are pieces of art, and worth collecting. I can tell you that these tops, due to their popularity will probably be reordered……but I will bring them back in new colors….so these existing colors can be considered limited additions…………………………………enjoy……………..much Love……………………….Louis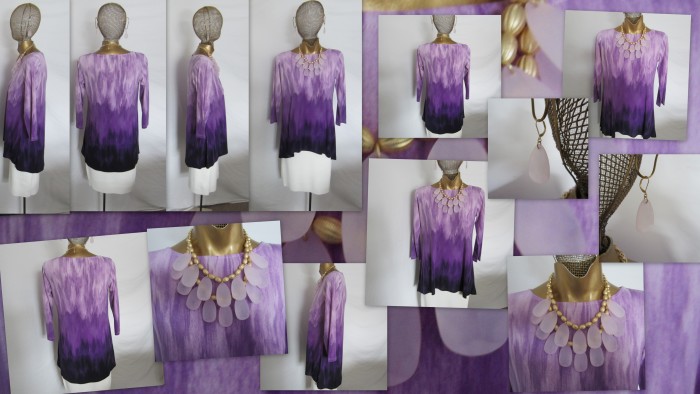 ………………….PLUM…….IRIS…….LAVENDER…….LILAC….GRAPE……..are all the colors represented in this "PLUM" OMBRE TUNIC, A263353………..We all know this was Elizabeth Taylor's favorite color. Legend has it….it was the color of her eyes…If you don't think purple is your color, [I can't think of a good reason why], I strongly suggest you take the leap…..I can promise you will get many compliments……It's always fun to surprise people who "think" they know you so well, and see you in a color you have never worn before!…….The High/Low hem works particularly well in this tunic because of the print. You can see from the side photos how the deepest colors descend on the body……giving a long and slimming effect. I chose the FROSTED PINK NECKLACE and EARRING set, J321803, because it was PERFECT. The frosted drops actually have a lavender tint which looks marvelous against the purples. The necklace takes the top to another level. Women and men will stare at how seamlessly beautiful it all looks……….This color brings back some childhood memories…..Who made GRAPE KOOLAID ICE CUBES????…..my favorite flavor. My mother used to make them for me, in the old ice trays, and in the summer they were the BEST……As you sucked on them the deep grape color would get paler and paler until it was clear….and then it was gone…….good memories of summer!………………………………………..enjoy……………….much Love…………………………Louis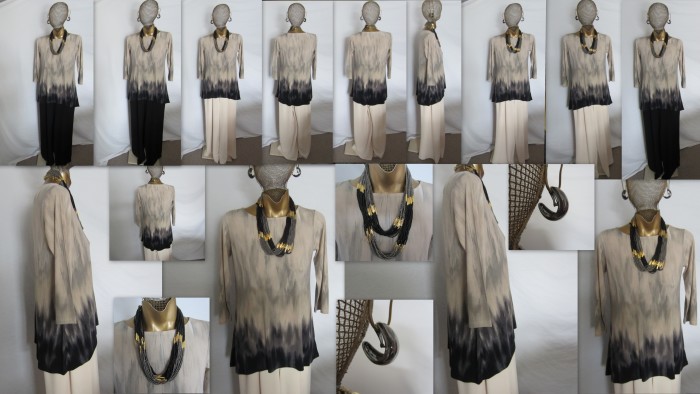 ……………….IF………you missed the Alabaster tunic when we first presented it on the 15th of May, we knew it would do well…..so we thought ahead and ordered more for this presentation……Don't miss out again!……………………………enjoy………….much Love………………………Louis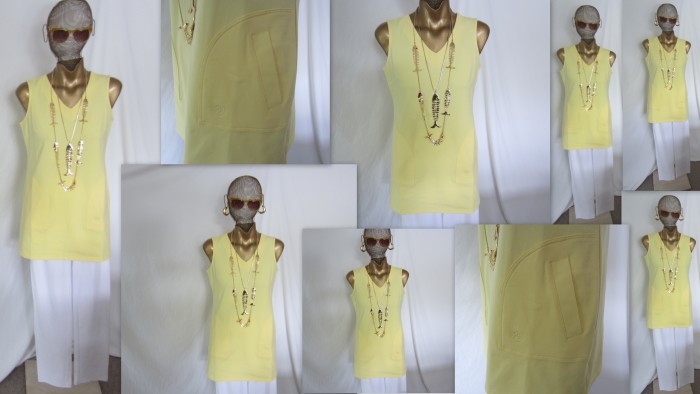 ……………………………The last piece for the Summer season………..a COTTON KNIT TUNIC, A290991…………the color is………BUTTERCUP. It's a soft yellow. You should know the color isn't as pale as my photos. It really does look like a bar of butter………….The fabric is my LIGHTER WEIGHT cotton knit, so there is nothing heavy or rubbery about it. It has a slight A-line which gives you hip ease and wiggle room……..The XS is 30 inches long…..a perfect length for all kinds of bottoms from leggings to Capri pants, to crops and pencil skirts……like a cute denim skirt………There are wonderful PATCH POCKETS with inset bands. The PATCH POCKETS help to keep the A-line shape without the fabric collapsing into the body…….My form is an xxs and the sample is an xs so it may look a little big…..BUT….it fits true to size, so do not size up or down…..However, ALWAYS check the click here measurements. especially if you have body issues………….When the temperatures rise……..this will be the top you will reach for……….It's avail to order right now!…………………….enjoy the summer…………………..much Love………………………..Louis
………………………….It's not easy creating the right PEACH color………..too yellow and it can become sallow……too pink and it's just not peach. I think I have hit the nail on the head with this PEACH color!…………….I love peach with silver and grey, so I have chose my slim Ponte pant in GREY, A265615, which is still avail in most sizes. For me it's the perfect grey to wear in the summer….and balances well with all kinds of summer colors……..SILVER and GUNMETAL add the coolness and modern look I was after, and there is nothing better to achieve it with than my PALM FROND NECKLACES , J290364 and EARRING J290363. For those new to Linea these pieces I had originally created for my Anne Klein Couture collection. and I had them reproduced for QVC. The necklaces are now only avail in the silver and gunmetal, but the earrings, which are on clearance are also avail in the gold tone. These are true collectors items!………The faceted wire cuff, J335214, is now very limited in quantity and colors, but this cuff has been reordered for next year in all colors…..but why wait if it's avail. now you'll be wearing it for a whole year before it returns………
…………………………enjoy………………………much Love……………….Louis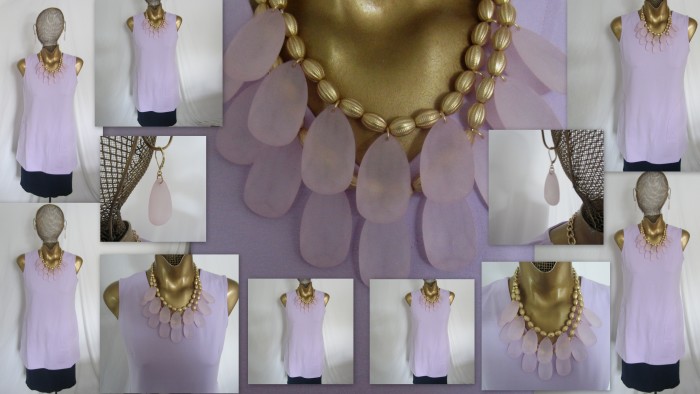 ………………………….ORCHID……………….a lovely pale, not too pale, soothing color………It's a color that can easily be dressed up. I have it accessorized with my pink frosted necklace which actually has a lilac tint, so they are perfect together. To keep it on the casual side I have it paired with a vintage Linea denim skirt. I love the three elements mixed together……………………………………………….
………………………………enjoy……………………….much Love……………………….Louis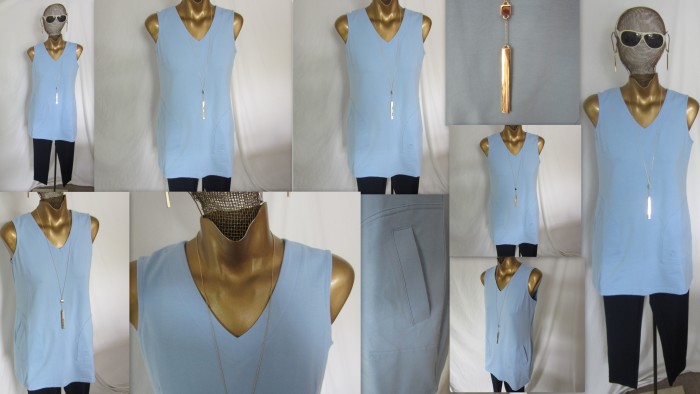 …………………………….ARCTIC BLUE…..is as it sounds……an icy blue cool color. It has a powdery soft quality that I'm sure you will love……………My navy LINEA BODY CAPRI LEGGING, A274374, is the perfect weight for summer, and works perfectly with this length tunic………The Y-Bar necklace will be coming back in most colors and a new addition!…………….enjoy……………………….much Love…………………..Louis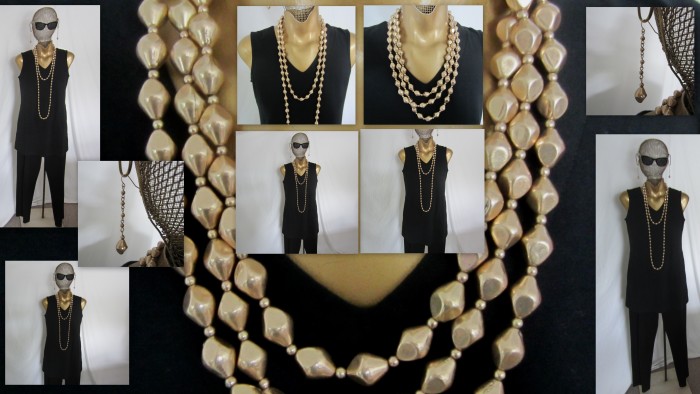 ………………If anything can take you from casual to dressy it's BLACK…………….and it's cool and comfortable, a perfect combination………..Pair it with my slim black ponte pant, A265615, a great year round weight, which is coming back in August…………………..All you will need are the right accessories…..so….this is a sneak peek within a sneak peek! The jewelry above is part of my new ETRUSCAN group that will be presented on my  QVC2 one hour JEWELRY show on August 25th!…….The earring and necklace is sold as a set and there is also a FIVE ROW BEADED stretch bracelet that is sold separately. The color above is RUSSIAN GOLD, and the group will be avail in THREE more colors………………………enjoy…………………much Love……………………Louis